Install the pro version and activate the licence
Upon purchasing our plugin, you will automatically receive a purchase receipt that contains your license key and a download link for the plugin's pro version. The installation process for the Advanced-WP-Reset plugin, whether it's the pro version or the free one from WordPress.org, can be completed in two ways. But in both ways, you need first to download the pro-version, you can do it using the link provided in your purchase receipt (Your downloads):
Then, you need to upload it to your website, either using WordPress Dashboard or via FTP.
Using WordPress Dashboard
Once the pro-version downloaded, you need to upload it to your website.
In your WordPress dashboard, navigate to 'Add New' in the plugins section:
Then click on Add New Plugin button and then on Upload Plugin as shown bellow:
This will show the your Downloads,
Click on the pro-version version, and then Upload:
Click on Install Now, this will install the plugin, and ask you to activate it:
Once activated, your plugins list will show your plugin activated:
Via FTP
Extract the downloaded zip file to the "advanced-wp-reset-pro-vxxx" directory
Upload the "advanced-wp-reset" directory (inside the extracted folder) to '/wp-content/plugins/' on your webspace.

Now, you need to activate the plugin from the Plugins dashboard:
Activate your licence
To access the Advanced WP Reset plugin, click on "Home" link before the deactivate link or navigate to "Dashboard" >> "Tools" >> "Advanced WP Reset":
If the licence is not activated yet, you will be asked to enter your key and then activate it: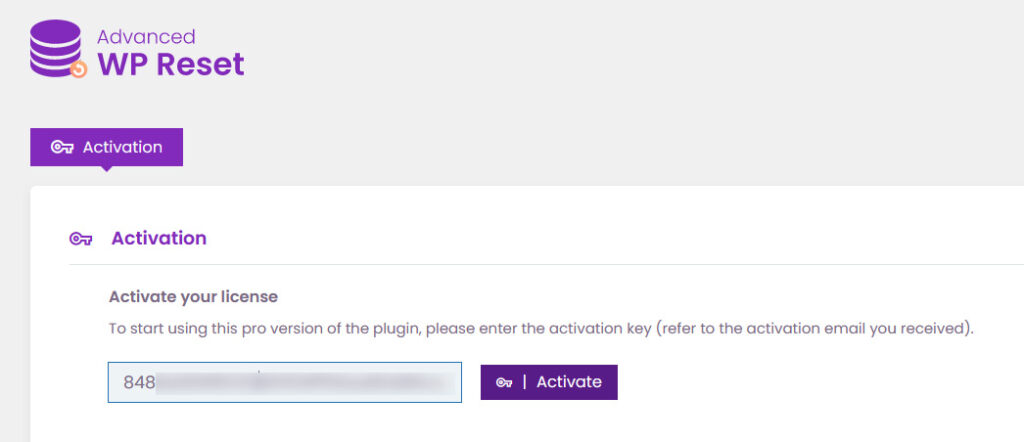 You find the key in the same activation email:
Enter it, and click on Activate: